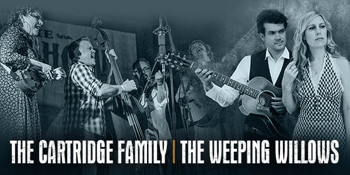 The Weeping Willows' Album Launch with The Cartridge Family
Thornbury Theatre - Ballroom (Thornbury, VIC)
Saturday, 5 March 2022 7:00 PM
Please note: for the health and safety of all our guests and staff, we will be adhering to the Covid-19 vaccination directions as mandated by the Victorian Government. In line with the Victorian Roadmap, all staff will be vaccinated and all guests will be required to show certification that they are fully vaccinated to gain entry to the venue.
Join The Cartridge Family (Sarah Carroll, Suzannah Espie, Rusty Berther, Greg Field and Nicky Del Rey) and The Weeping Willows (Laura Coates and Andrew Wrigglesworth) for a very special show at The Thornbury Theatre

to celebrate the launch of The Willows'

long-awaited, much-anticipated new album. A helluva good time, not to be missed!