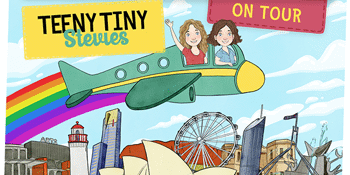 Teeny Tiny Stevies
Thornbury Theatre - Ballroom (Thornbury, VIC)
Sunday, 18 April 2021 10:30 AM
All Ages. Babies 12 months and under are free in parents arms/lap.
Doors Open 9.30am
Show Time 10.30am
When Teeny Tiny Stevies announced their first Australian tour last year something unexpected happened… shows started selling out within hours!
"it was brilliantly exciting but totally overwhelming" Beth said, "we had so many people writing to us who were disappointed because they'd missed out on tickets and we felt pretty terrible for them".
So when it was time to book the next tour they got bold, and they've gone big.
Over the next few months Byll and Beth, along with their live band mates, will grace the stages in some of Australia's most fun & prestigious spaces.
"it's so hard to keep going out at night when you have small kids, even if live music is something you love and a culture you wish to continue supporting. It's wonderfully encouraging to know families are keen to experience live music together, with us" said Byll.
With their third studio album scheduled for release in 2020, they'll be giving audiences a little taste of some newbies along with all the hits, so there's no excuse for not singing along to:
Boss of My Own Body, Baby in Mum's Tummy, I Ate a Rainbow, On The Toilet, Family (Love Is Love), Boy Or Girl Colour, ALL THE BANGERS.