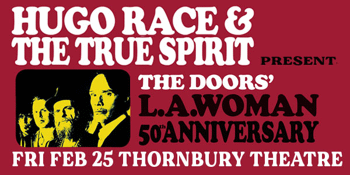 Hugo Race & The True Spirit present "L.A.Woman 50th Anniversary"
Thornbury Theatre - Ballroom (Thornbury, VIC)
Friday, 25 February 2022 7:00 pm
Please note: for the health and safety of all our guests and staff, we will be adhering to the Covid-19 vaccination directions as mandated by the Victorian Government. In line with the Victorian Roadmap, all staff will be vaccinated and all guests will be required to show certification that they are fully vaccinated to gain entry to the venue.
Hugo Race and The True Spirit present The Doors "L.A. Woman" (1970): The Doors final studio album was a bluesy, self-produced, garage-style recording that contains two of their biggest singles including the atmospheric "Riders on the Storm". It's quite an experience to hear it performed live by Hugo Race and his psychedelic quintet featuring keyboardist Julitha Ryan – the band recently released their critically acclaimed 'Star Birth, Star Death' double album.
Hugo Race was a key element in Melbourne's early 80s post-punk scene, a founding member of Nick Cave's Bad Seeds and of the seminal Australian cult band The Wreckery. He has been a prolific independent producer and recording artist in Europe and Australia for over 30 years with the True Spirit, Hugo Race Fatalists and Dirtmusic.
Special guest J.P.Shilo (Hungry Ghosts/ Pop Crimes – The Songs of Rowland S. Howard) presents his fully psyched version of the Jim Morrison's classic cult performance work 'Celebration of the Lizard' backed by the Spirit.
Opening the night, one-man orchestra Stu Thomas presents his one-man take on the hits of the legendary Lee Hazlewood
Is everybody in?
Is everybody in?
Is everybody in?
The ceremony is about to begin…
(Jim Morrison)