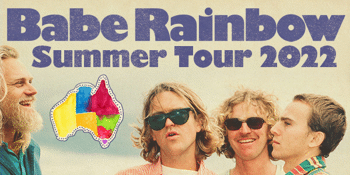 triple j & Select Music
Babe Rainbow
Thornbury Theatre - Ballroom (Thornbury, VIC)
Saturday, 26 March 2022 8:00 pm
Please note: for the health and safety of all our guests and staff, we will be adhering to the Covid-19 vaccination directions as mandated by the Victorian Government. In line with the Victorian Roadmap, all staff will be vaccinated and all guests will be required to show certification that they are fully vaccinated to gain entry to the venue.
Shit a brick! Babe Rainbow SMASH THE MACHINE.

Rockit clock says summers coming on, Babes got the songs and shows ready to soundtrack. First off is new single "Smash the Machine", an air adventure out of your head and into the screen. A contradictory joyous choir of harmony to juxtapose its biting commentary on technology and consumerism.
We bookend a year that started with Babe Rainbow alongside Jaden Smith pushing imaginations on what the intersection of rainbow psyche music and hip hop sounds like. It was lifted from the bands fourth album that UK Clash Magazine reviewer called "Psych-pop constructed with a painterly touch, Babe Rainbow seem to thrive on feeling, unhooking themselves from logical realms and embarking on lengthy journeys across turbulent inner oceans."