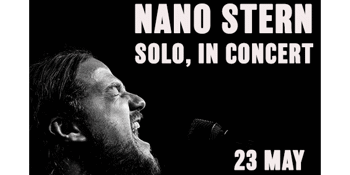 Palosanto Productions
POSTPONED - Nano Stern (Chile) Solo, in Concert
Thornbury Theatre - Ballroom (Thornbury, VIC)
Sat 23 May - Thu 1 October 2020 7:00 PM
POSTPONEMENT NOTICE
Please know that we are working hard with the event organisers to arrange the new event date/s and will be in touch as soon as the information becomes available, in addition the new event information will be updated here, as well as more detailed information via this
link
. We are currently cancelling and rescheduling many events, so please bear with us during this process. Thank you in advance for your support and patience at this time.
When the new date is confirmed, information on potential refunds will be sent to the original ticket holder. As a supporter of live events, we encourage that if you can,
#keepyourticket
and keep the industry alive. By not requesting a refund and holding onto your ticket for the future date, you will not only be supporting the artists, but the wider industry of venues, agents, managers, promoters, hospitality workers and so many more who work tirelessly behind the scenes on the events that bring so much joy to all of our lives, and whose livelihoods depend on the industry.
---------------------------------------------------------
Nano Stern is a contemporary Latin American roots artist, riding the crest of the new wave of Chilean Song, with a devoted following that stretches out from Chile, into Latin America, north to Mexico, Canada and the USA, over to Europe and down into Australia. He has embarked on a life-long quest to re imagine the tradition and "fill old bottles with new wine".
The second half of 2019 saw him deeply involved in the social revolts that shook his country, playing in marches and demonstrations across the land.
His song "Regalé mis ojos", which denounces the brutal repression currently crushing the people of Chile, went viral and has become one of the musical emblems of the revolt. It was written and recorded all in a few hours, in a motel room on his short Australian tour, in the days before he performed at a packed solidarity rally at Federation Square in Melbourne.
In 2020, a new constitution in Chile looms large for April with many activities planned leading up to that. Before that he has two poetry books being published in Chile, followed by tours of the USA & Europe. In the middle of all that, he'll fly back through Australia for one night in Melbourne. His 7th studio album is expected later in the year.
Nano's musical virtuosity, mesmerising and charismatic live performances and his passionate and poetic advocacy for social justice result in a true and honest universal message, delivered with intense energy and a high level of musicality, dwelling deeply into tradition whilst being contemporary with the passion of youth.
Nano's solo shows are an intense expedition through stories and song that usually have his audiences in tears, laughing and dancing, all within a single performance. Not to be underrated is the power and emotion that emanates from his vocal prowess and his intimate and rousing connection to his audiences, at home in Chile and across the world.
His contagious personal energy and his fluency in multiple languages allows Nano to warmly include his international audiences in the stories of his Spanish songs.