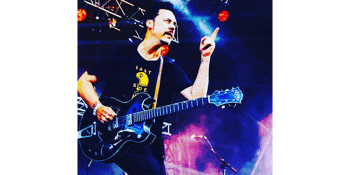 Rock Solid Touring & Robot Productions
Greazefest presents a Southern Shakedown feat. Jesse Dayton, Lil' Mo + The Detonators
Thornbury Theatre - Ballroom (Thornbury, VIC)
Friday, 29 July 2022 7:00 pm
Greazefest presents a Southern Shakedown. One night only!
Featuring turbo-country guitar slinger Jesse Dayton (Texas USA), along with rockabilly dynamo LiL' Mo (California USA), joined by Australia's kings of roots rock'n'roll, The Detonators.....UNMISSABLE!

JESSE DAYTON is no stranger to the rock country music scene, now a successful independent act, Dayton has played guitar on Guns N' Roses bassist Duff McKagan's latest solo album, launched his own weekly radio show, Dayton's "Badass Country Show," on Gimme Country and licensed more than 50 songs for film and television…not to mention touring his arse off playing over 150 live dates per year throughout Europe and North America while also releasing five albums for Blue Élan Records. A singer, songwriter, filmmaker and author, Jesse Dayton is a veteran of more than 30 years as a musician. Dayton was discovered as a young teenager playing "a toilet dive" in his hometown of Beaumont by legendary club owner Clifford Antone, who booked him into his famed Austin venue, then immediately shifted him over to the honky-tonk Broken Spoke, where the likes of Willie Nelson, George Strait and Ernest Tubb have had residencies. Dayton says, "When I first got to Austin, everybody else sounded like Stevie Ray Vaughan, but I sounded more like Jerry Reed. I didn't think I was cool, either, because this was before every punk sported that image of Johnny Cash flipping the rod." Equally steeped in Texas/Louisiana blues, old-school country and punk-rock, Dayton is the music world's best-kept secret, hiding in plain sight as a guitarist for Waylon Jennings, Johnny Cash, Ryan Bingham and L.A. punk pioneers X, as well as touring alongside Social Distortion, the Supersuckers and John Doe.

LIL' MO Everett is an authentic vocalist and performer whose talents span a range of vintage musical styles. Lil' Mo has recorded nine studio albums, with many released in Europe on Rhythm Bomb Records, plus a double album which was released exclusively in Japan. In addition, Mo has sold out shows from Tokyo to Helsinki, Los Angeles, London, Boston, Barcelona, Paris and Berlin! Now Australian audiences will have their chance to catch Lil' Mo when he makes his first visit to the land downunder. Lil' Mo will be joined by The Demons (Dave Cantrell, Snappy Vex, Andrew Lindsay) for what will be an action-packed show!

THE DETONATORS were formed in Melbourne way back in 1997.This popular hard working quartet have never been afraid to hit the road, haul some kilometres and rack up a heap of gigs. They believe they have easily done more than 3000 gigs since they first formed. The Detonators have a finely honed array of original songs and a stage show that only comes from years of gigging pubs, clubs and
festivals. Their relentless gigging and touring over vast distances through the years both in Australia and overseas has seen them become crowned kings of Australian roots rock n roll. Their original music, to which all members contribute, is best described as a lethal combination of early blues with a sprinkling of rockabilly and early rock n roll thrown in. The band features bespectacled Rockbottom James on vocals and electric harmonica, Paulie Bignell on hollow body guitar, Doghouse Dave on slapping double bass with Eddie Fury on sticks and skins duty. There are six Cd's in their arsenal and a book currently being written about the bands exploits over 23 years
which will be available mid to late 2022.