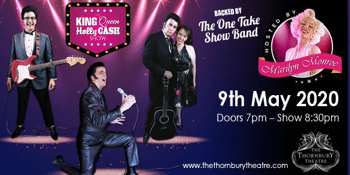 MC Entertainment presents
King Queen Holly Cash Show
with special guests
Thornbury Theatre - Ballroom (Thornbury, VIC)
Saturday, 9 May 2020 7:00 PM
Mark Caligiuri has been wooing audiences around Australia and Internationally for over 20 years, with over 5,000 performances under his belt. Mark loves to involve the audience in all of the shows, and ensures everyone leaves feeling thoroughly entertained and completely satisfied. Mark is Australia's No. 1 tribute performer, and not only sounds like the great music legends he channels, but also wears exquisite costumes that capture the essence of the era and style of each star.



He is a renowned Elvis Presley entertainer that has seen his show performed from coast to coast throughout Australia at RSLs, Clubs, Bowling Clubs, Golf Clubs as well as prestigious venues such as Twin Towns in Queensland (regular for over 10 years), and is a consistent hit at the annual 'Parkes Elvis Festival'.

In addition to Elvis Presley, Mark also performs the greatest hits of Buddy Holly while playing his electric guitar. The transformation from Elvis to Buddy is seamless, and Mark wows audiences with his charming smile and moves, that are guaranteed to have you rockin' the night away.

Mark's wife, Joanne Caligiuri, joins him on stage as they perform the hits from Johnny Cash and June Carter-Cash. These two work together to create the engaging energy that Johnny and June shared on stage. Not only do they sound just like them, but their costumes replicate the 'Man in Black' with renditions that will have you reliving those great hits.

This show is hosted by Joanne as the glamorous Marilyn Monroe; who is known to pull an audience member up for a personal performance, or sing a song or two. She also recreates the iconic scene from the movie 'Seven Year Itch', where her little white dress blows up while standing over a subway grate in New York.

All songs throughout this show are backed by the wonderfully talented 6-piece 'The One Take Show' band with female backing vocalists. This tribute show is one you cannot miss and is sure to excite and delight!